Classically trained singers who are passionate about choral music
We strongly believe that experiencing choral performance, both as a singer and as a listener, can be truly inspirational.
Our vision is to transform the lives of people through music.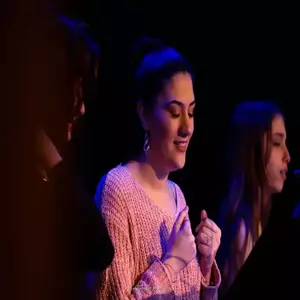 "
I was very impressed
I met Sofia Gioldasi in Spain some years ago and we could share a wonderful week of music and friendship. Since the beginning I noticed her strong commitment and love to choral music as well as deep motivation to create and develop new projects in her country after her stay in the Netherlands. "Voci Contra Tempo is the result" of that search and that initiative. I could meet the choir in Arezzo in August 2021 and I was very impressed by the sound quality of the group as well as the intelligent and creative selection of the repertoire. I am sure this group will contribute to developing the choir world in Greece and Europe and I wish them all the best!
"
μια μοναδική εμπειρία τόσο για τους συμμετέχοντες όσο και για το κοινό
Αναμφισβήτητα, κάθε project των Voci Contra Tempo αποτελεί μια μοναδική εμπειρία τόσο για τους συμμετέχοντες όσο και για το κοινό. Οι Voci Contra Tempo κατέχουν, όπου και να βρίσκομαι, μια πολύ ξεχωριστή θέση στην καρδιά μου. Και αυτό γιατί η συμμετοχή μου σε αυτές, τόσο σε καλλιτεχνικό όσο και σε ανθρώπινο επίπεδο, με βοήθησε να ανακαλύψω και να αγαπήσω μονοπάτια, που σήμερα, χωρίς καμία υπερβολή, καθορίζουν με τον πιο όμορφο τρόπο την ζωή μου.
"
όταν σκέφτομαι αυτά τα χρυσά κορίτσια και την απίθανη μαέστρο τους ...
Μπορώ να πω πολλά για τις Voci Contra Tempo. Μπορώ να μιλήσω για την καλλιτεχνική αρτιότητα, την τόλμη, την αγάπη, την ομορφιά, την απίστευτη μεθοδικότητα και υπομονή. Το πιο σημαντικό, όμως, είναι ότι όταν σκέφτομαι αυτά τα χρυσά κορίτσια και την απίθανη μαέστρο τους, μου βγαίνει αυθόρμητα ένα πλατύ χαμόγελο!...
Local and International performances and festivals
"Voci Contra Tempo" vocal ensemble was founded in 2017 and it has already made an impact in the Greek and international choral music scene.
In the summer 2021 the ensemble was invited to participate at the "Guido d'Arezzo International Choral Festival" (IT), the "Incontro Internazionale Polifonico 'Città di Fano'" (IT) and the Preveza International Choral Festival (GR).
We'd love to sing for you!
Το Γυναικείο Φωνητικό Σύνολο "Voci Contra Tempo" έχει την χαρά και την τιμή να αποτελεί ensemble-in-residence του Τμήματος Μουσικών Σπουδών του Αριστοτελείου Πανεπιστημίου Θεσσαλονίκης από το 2021.
Μέσα από αυτή τη συνεργασία, οι δύο φορείς φιλοδοξούν να πραγματοποιήσουν μία σειρά από projects που θα προάγουν τη χορωδιακή και φωνητική μουσική και θα συμβάλλουν στην εκπαίδευση των νέων συνθετών και στη σύνθεση νέας χορωδιακής μουσικής για όμοιες φωνές.
Our vision is to transform the lives of people through music
Help us to exist as a non-profit organization