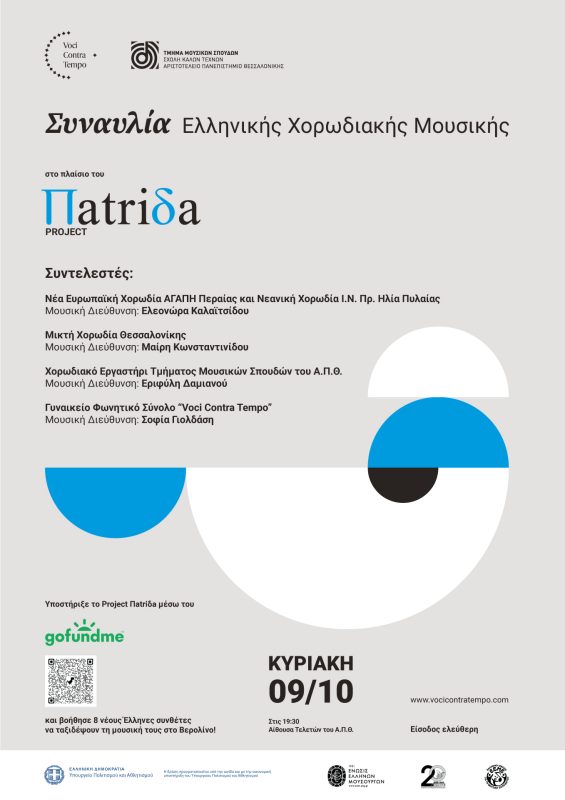 Συναυλία Ελληνικής Χορωδιακής Μουσικής
Το Τμήμα Μουσικών Σπουδών του Α.Π.Θ. και το γυναικείο φωνητικό σύνολο Voci Contra Tempo σας προσκαλούν στη μεγάλη Συναυλία Σύγχρονης Ελληνικής Χορωδιακής Μουσικής που διοργανώνεται στο πλαίσιο του Project Πatriδa, υπό την αιγίδα και την οικονομική υποστήριξη του ΥΠ.ΠΟ.Α. Θα ακουστούν, μεταξύ άλλων, και έξι παγκόσμιες πρεμιέρες έργων των Χρήστου Σαμαρά, Κώστα Τσούγκρα, Μιλτιάδη Κασσάρα και Σοφίας Γιολδάση, από 5 κορυφαίες χορωδίες της Θεσσαλονίκης, σε μουσική διεύθυνση Ελεονώρας Καλαϊτσίδου, Μαίρης Κωνσταντινίδου, Εριφύλης Δαμιανού και Σοφίας Γιολδάση.
The concert takes place under the auspices and financial support of the Greek Ministry of Culture and Sports.