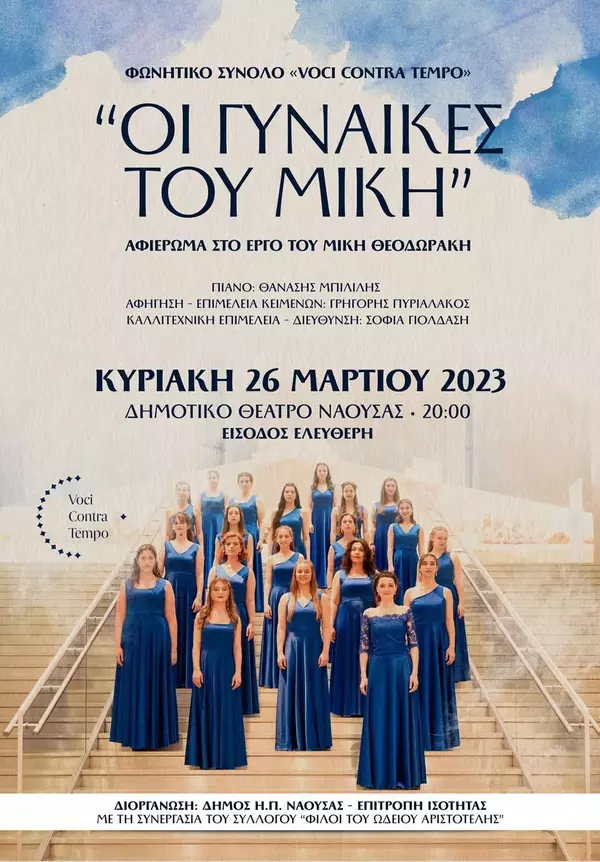 Οι Γυναίκες του Μίκη (Mikis Theodorakis)
On the occasion of International Women's Day, which is celebrated every year in March, the Municipality of the Heroic City of Naoussa and the Equality Committee, in collaboration with the "Friends of the Aristotle Conservatory" Association, present the musical event "Mickey's Women", on Sunday 26 March 2023 at 20:00 at the Municipal Theater of Naoussa "Mikis Theodorakis".
Entry is free to the public.
After the great success of their first concert with the Cultural Center of the Central Macedonia Region in March 2022 and the warm response of the audience, the female vocal ensemble "Voci Contra Tempo" presents in Naoussa a unique program – a tribute to the work of Mikis Theodorakis.
Choral arrangements by Dimitris Karvounis, Thanasis Bililis, Terpsichoris Papastephanou, Nikos Platyrrachos and Sofia Yoldasis will be heard.
Coefficients:
Piano: Thanasis Bililis
Narration – Editing of texts: Grigoris Pyrialakos
Artistic supervision – Music Direction: Sofia Yoldasi
More information is published on the website of the Municipality of Naoussa https://www.naoussa.gr/news/press/pagkosmia-imera-tis-gynaikas-5378