Classically trained singers who are passionate about choral music
We strongly believe that experiencing choral performance, both as a singer and as a listener, can be truly inspirational.
Our vision is to transform the lives of people through music.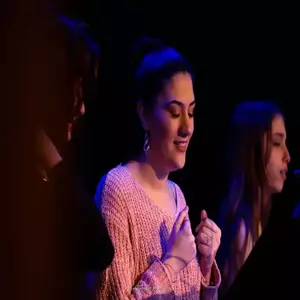 "
I was very impressed
I met Sofia Gioldasi in Spain some years ago and we could share a wonderful week of music and friendship. Since the beginning I noticed her strong commitment and love to choral music as well as deep motivation to create and develop new projects in her country after her stay in the Netherlands. "Voci Contra Tempo is the result" of that search and that initiative. I could meet the choir in Arezzo in August 2021 and I was very impressed by the sound quality of the group as well as the intelligent and creative selection of the repertoire. I am sure this group will contribute to developing the choir world in Greece and Europe and I wish them all the best!
"
a unique experience for both the participants and the public
Undoubtedly, each project of "Voci Contra Tempo" is a unique experience for both the participants and the public. Wherever I am, "Voci Contra Tempo" holds a very special place in my heart. And this is because my participation with the ensemble, both on an artistic and a human level, has helped me to discover and love the paths that today – without any exaggeration – define my life in the most beautiful way.
"
when I think of these 'golden girls' and their incredible conductor …
There is a lot that I could say about "Voci Contra Tempo". I could talk about artistic perfection, courage, love of beauty, incredible methodical preparation and patience. The most important thing, however, is that when I think of these 'golden girls' and their incredible conductor, a wide smile spontaneously breaks across my face!
Local and International performances and festivals
"Voci Contra Tempo" vocal ensemble was founded in 2017 and it has already made an impact in the Greek and international choral music scene.
In the summer 2021 the ensemble was invited to participate at the "Guido d'Arezzo International Choral Festival" (IT), the "Incontro Internazionale Polifonico 'Città di Fano'" (IT) and the Preveza International Choral Festival (GR).
We'd love to sing for you!
The Female Vocal Ensemble "Voci Contra Tempo" is very happy and honored to be ensemble-in-residence at the Department of Music Studies of the Aristotle University of Thessaloniki for the academic year 2021/22.
Through this collaboration, the two organizations aspire to carry out a series of projects that will promote the choral / vocal music and contribute to the training of young composers aiming for the composition of new choral music.
Our vision is to transform the lives of people through music
Help us to exist as a non-profit organization