Online Lectures on Choral Music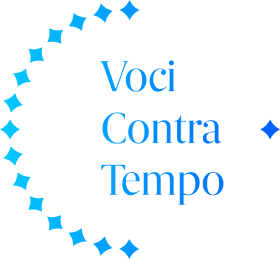 The Department of Music Studies of Aristotle University of Thessaloniki, Greece, and 'Voci Contra Tempo' Female Vocal Ensemble (ensemble-in-residence of the Music Studies Department) are jointly organizing a series of four (4) lectures (online), as part of a Choral Music Composition Workshop within the framework of Project 'Patrida'.
The lectures are open to composers, conductors, choristers, musicologists and music teachers from schools, conservatories and universities, as well as to anyone who would like to attend. The participants of the lectures will have the chance to connect with some of the most significant living composers of choral music, most of whom have immense choral experience as both conductors as well as singers, with extensive repertoires, recording catalogues, and numerous awards in choral competitions. The invited composers will each give a three-hour online lecture analyzing their work. Lectures will be held via Zoom.
Some of the topics to be explored are:
 – Analysis of selected pieces of their own work, focusing on the repertoire for female and children's choirs (structure, form, harmony, melody etc.)
 – Contemporary techniques for vocal and choral composition
 – Particularities of composing for same-voice-type choirs and the differences compared to composing for mixed choirs
 – Techniques used in harmonizing traditional tunes (with examples from each lecturer's country)
 – The process of incorporating traditional music elements in original contemporary choral composition
LECTURERS
1) Lorenzo Donati (Italy) https://www.lorenzodonaticompositions.com
"Choral Composition: the connection of humanity and sky, the past and the dream of future"
Saturday, 24th of September
2) Ambrož Čopi (Slovenia) https://soundcloud.com/composer-ambroz-copi
"Sound images of the past in the mirror of my soul"
Saturday, 1st of October
3) Calliope Tsoupaki (Greece/Netherlands) https://www.calliopetsoupaki.com/music/vocal-choral-music
"The shuffled time in Calliope Tsoupaki's vocal music"
Sunday, 2nd of October
4) Eva Ugalde (Spain) https://cm-ediciones.com/en/book-author/eva-ugalde-en
"Old bricks for new buildings. Tradition in choral music from the Basque country"
Sunday, 9th of October
All the lectures will take place from 10.30 to 13.30 Greek time (UTC+3)
The lectures are open to anyone in the world who is interested in attending. The official language is English.
The participants will receive a Certificate of Participation.
PARTICIPATION FEES:
Standard: €20 / lecture
Passepartout: €60 (4 lectures)
To attend the lectures, we kindly ask you to register soon, by completing a Participation Form, which you can download by clicking here.
The payment of the participation fee will be carried out through a deposit in the 'Voci Contra Tempo' Non-Profit Organization's bank account
Piraeus Bank  IBAN GR34 0171 5590 0065 5915 1538 427.
Please state YOUR NAME, followed by "Project Patrida"  as the title of the deposit / transaction. E.g. "William Smith Project Patrida".
To secure your place in the lectures, we kindly ask you to submit your completed Participation Form via email at vocicontratempo@gmail.com , with a copy of the bank transaction, where the participation fee will be visible (you can ask for a PDF copy of the transaction after successfully completing it).
Deadline for Participation Form Submission: 24 hours before the beginning of each lecture.
To join the lectures, a Zoom link will be sent to you in time.
For further information, please do not hesitate to contact us via email at vocicontratempo@gmail.com
This project is organized under the auspices and with the financial support of the Greek Ministry of Culture and Sports.

Collaborating Institutions:
The Female Vocal Ensemble "Voci Contra Tempo" is very happy and honored to be ensemble-in-residence at the Department of Music Studies of the Aristotle University of Thessaloniki for the academic year 2021/22.
Through this collaboration, the two organizations aspire to carry out a series of projects that will promote the choral / vocal music and contribute to the training of young composers aiming for the composition of new choral music.