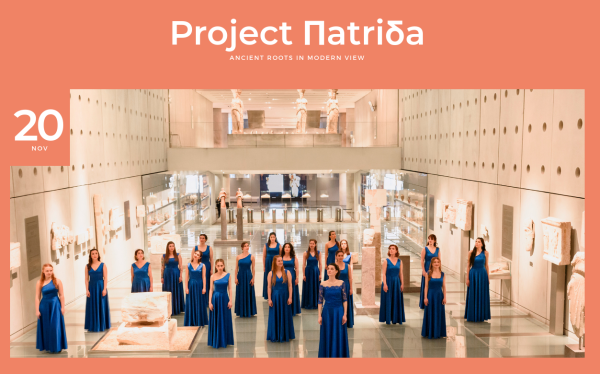 Project Πatriδa: Ancient Roots in Modern View
The roots of Greece are deep. They are lost in the depths of the earth like the roots of centuries-old trees, rough and steadfast. The roots of Music are just as deep, as ancient as Greece, yet it has always connected the earth to the sky. The earthly with the divine, the mortal with the immortal….
Project Patrida is an attempt to explore and redefine the elements of Greekness in music, through the prism of contemporary vocal techniques for a choir of similar voices. 
The female vocal ensemble "Voci Contra Tempo" from Thessaloniki seeks a contemporary identity of Greek choral music, in original choral treatments, and searches for its roots in the music of ancient Greece, in the late Byzantine years, in traditional singing, as well as in the peak of all this musical wealth, as it was revealed to us in the 20th century, through the music of Manos Hadjidakis and Mikis Theodorakis. 
The roots of our trees are united underground with the neighbouring countries, just as our music is united with the traditions of the other peoples we surround. That is why the musical programme of the concert, apart from a timeless approach to Greek music, seeks – to a lesser extent – to highlight the relationship between Greek music and the music of the countries bordering it. 
Religious and secular songs, songs about the joy of life, the beauty of nature, love and death. Lyrics carved on stone, calligraphed with a pen on papyrus… for 2500 years!