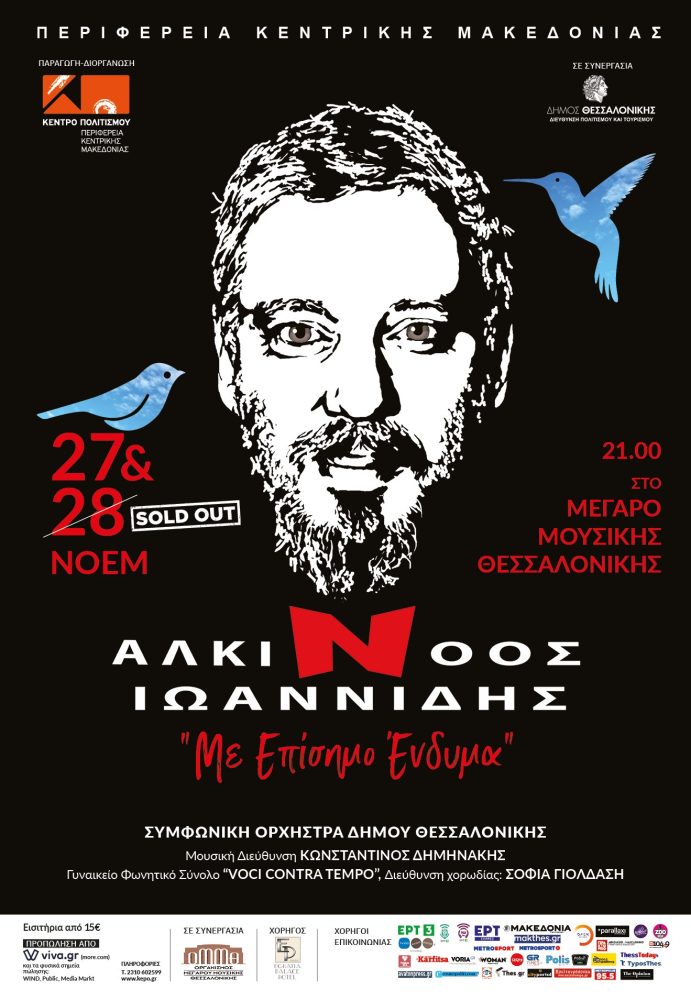 Official Dress – Alcinoos Ioannidis
The Culture Center of the Central Macedonia Region presents the songwriter Alkinoos Ioannidis with "Official Dress"  Symphony Orchestra of the Municipality of Thessaloniki and the Female Vocal Ensemble Voci Contra Tempo , Female Vocal Ensemble.
The evening "In official dress" is a subversive artistic proposal of the Cultural Center of the Central Macedonia Region that combines a symphony orchestra with alternative artists and outlines their artistic portrait. It was presented for the first time in Thessaloniki, in October 2019, with Stamatis Kraunakis as the first guest, two years later the official garment was worn by Panos Mouzourakis and last year by Nikos Portokaloglou.  This year, the baton is taken by the excellent songwriter, performer, arranger, producer, beloved colleague of the entire Greek music scene, as can be seen from his many collaborations, Alcinoos Ioannidis, where since 1993 he has appeared on the artistic scene and has traveled a brilliant but also creative path.
This year, completing thirty years in the field, he comes to wear the "Official Dress" of the Cultural Center, in an evening, a musical mosaic, where, in addition to his well-known and favorite songs, anecdotes will be heard, as well as his theatrical music that has dressed important representations.
Coefficients:
Symphony Orchestra of the Municipality of Thessaloniki
Conductor: Konstantinos Diminakis
Song: Alcinoos Ioannidis
Featuring Voci Contra Tempo , Female Vocal Ensemble
Choir Director: Sofia Goldasi
Production: Center of Culture of Central Macedonia Region
In collaboration with the Directorate of Culture and Tourism of the Municipality of Thessaloniki and the Thessaloniki Music Hall Organization